Chicago Students Take a Stand Against Gun Violence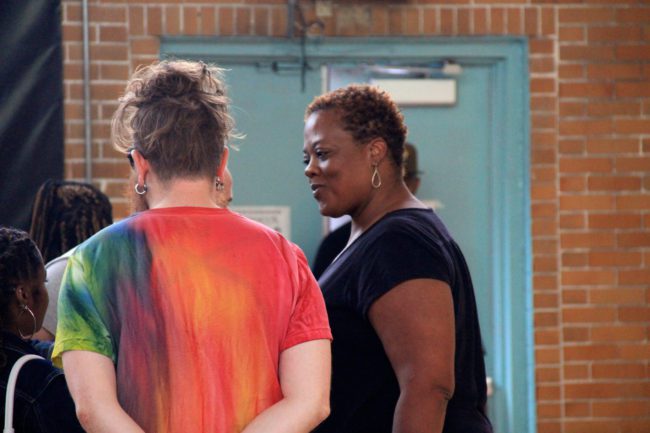 American youth participated in the #NationalSchoolWalkout to express their intent to push Congress to meet their demands for safer schools and communities. Organizers in Chicago joined using #GoodKidsBadCity in addition to those used by the Women's March Youth Empower movement.
Gun violence in Chicago touches everyone. Within the first three months of 2018, 40 youngsters between the ages of 2 and 16 either died or were victims of gun violence. "Since September 2011, at least 169 people under 17 have been killed in shootings and at least 1,620 people in that age group have been shot," according to Chicago Tribune.
It is difficult to come to terms with the feelings surrounding the death of anyone, but victims of gun violence, who have not yet reached adulthood are particularly painful. Hence the reason the walkouts took place on March 14, 2017.
North Lawndale College Prep students held their own demonstration. Jeneca Jones, a senior and one of the organizers of #GoodKidsBadCity gave an impassioned speech.
For as long as I can remember I have had various encounters with violence. But when it started hitting closer and closer to home I finally felt the pain many young people are feeling. I felt stripped of my childhood…losing people I love emotionally damaged me and it took a chunk out of me. [I was 16 when] I lost one of my childhood friends because his killer thought he was someone else.

One night he was walking down the street trying to get home and a while later he was gone. It hurts to see someone who didn't do anything just be taken away. His [loss] made me feel little hope. I wasn't on top of my game [and] I made a couple [regretful moves] and [they] still impact me today. I started to lose focus in school because his death was the only thing I can think about. It was unbelievable.

It is emotionally draining to constantly have to experience violence which leads to emotional trauma within many young people. In Chicago over 1,600 young people have been shot since 2011. That is almost 20 young people being shot every single month.

At one point I had suicidal thoughts because losing a loved one is draining and especially when it happens constantly and gun violence is everywhere in your community. I realized I was not alone in these feelings, and we are in this together. We have to address the trauma and violence within our communities [and work] toward [building] healthy communities.
Eleven miles away, students at the Kenwood Academy also participated in the walkout. The demonstrators were asked to raise their hands if someone they knew had died as a result of gun violence. Unfortunately, the majority of hands were lifted.
Hundreds of thousands of people participated in #Enough #NationalSchoolWalkout day, including high school and college students, teachers, and parents.
The next protest is scheduled for March 24, where students in Wisconsin plan to walk 50 miles to Paul Ryan's home. Other students will be marching on Washington.
The last demonstration, April 20, is scheduled to coincide with the anniversary of the Columbine High Schools shooting, which took place in 1999 and resulted in 15 deaths, 21 non-fatal gunshot victims, and three non-gun-related injuries.
By Cathy Milne
Sources:
Interview: Jeneca Jones; March 14, 2018
Chicago Tribune: Young Victims
Newsy: Chicago students protest community gun violence [Video]
Images Courtesy of Daniel X. O'Neil's Flickr Page – Creative Commons License