Flu Shot Essential in 2020 Due to COVID-19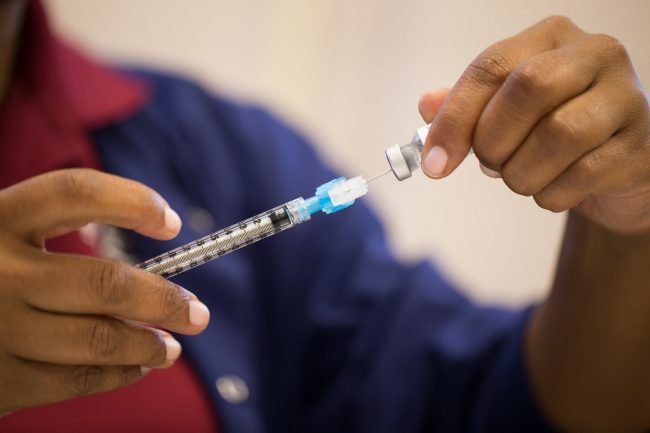 As the fall and winter months approach, flu shots are essential due to the devastating effects of COVID-19 in 2020.
The flu once ravaged the land without a vaccine for decades. Depending on the source, it is reported that 40-70 million people died as a result of the influenza epidemic in 1918-1919.
Now, the world is dealing with a new pandemic — COVID-19.  Scientists are perplexed by the nature of the novel coronavirus, as they were when influenza first came on the scene. Hopefully, it will not take a decade for them to come up with an effective vaccine.
The virus is spread when someone who is infected coughs, sneezes, or talks. Their respiratory droplets can be inhaled into the lungs of a non-infected person. The virus may also be spread by touching infected objects or surfaces.
Human to animal transmission is possible but the odds are low. Scientists are learning more and more about this virus daily.
Flu v Coronavirus Death Rate
In comparison, the average death rate of the coronavirus is 52 times higher than influenza. As of August 28, 2020, well over 800,000 people have died worldwide from COVID-19. In the U.S., 180,857 people have died as a result of COVID-19.
From October 2019-April 2020, an estimated 39 million to 56 million cases of influenza were reported and an estimated 24,000 – 62,000 people died, according to the CDC.
As the seasons change, people can anticipate a lot more coughing and sneezing. Unfortunately, there is no vaccine for the coronavirus.
Luckily, there is a vaccination for the flu that can prevent or lessen its symptoms, which show up quicker than those of COVID-19.
People who have been less willing to get the vaccination in the past may reconsider this year because of the coronavirus. Due to the rising infections of COVID-19, the flu shot may be essential this year. It will be one less thing to worry about.
To Vaccinate
The ingredients comprised in the vaccine has been known to cause concern for some people. Ingredients like formaldehyde, polysorbate 80, preservatives, egg protein, stabilizers, and antibiotics.
At first sight, these ingredients do appear alarming, however it is noted that we use and consume most of these items in our everyday products.  Studies show, the amount of these properties found in the vaccine is very small and does not pose a safety concern.
A person should always consult with their health physician regarding if getting the vaccine is right for them. There are also alternative vaccines for those people who have egg allergies.
A person can choose between an injection or a nasal spray. Both have been proven as effective methods.
However, there are some side effects worth mentioning. Recipients of the shot have reported headaches, fever, tenderness in the arm that was shot, and fatigue. These symptoms are mild in comparison to the benefits and protection the shot provides.
Although there is still a chance to become ill after obtaining the shot, symptoms may be milder than they would be if a person was not protected.
Or Not to Vaccinate
There are many benefits to getting the vaccination, however, it is not for everyone. The vaccination should not be given to children 6 months of age and younger, people with weakened immune systems, or people who may have allergies to the ingredients in the vaccine.
Someone who has ever had Guillain-Barre' Syndrome (GBS) should avoid the shot. GBS is a paralyzing disorder and the vaccination can trigger the condition.
There are times when making health decisions, or lack thereof can affect others. Getting the shot, can essentially help provide protection to others who are not able to be vaccinated.
Coughing, sneezing, fever, body aches, and upper respiratory issues seem to be overlapping symptoms of both viruses. Being vaccinated may prevent one from mistakingly thinking they have contracted COVID-19.
As coronavirus cases continue to escalate, getting the flu vaccine will put less of a strain on emergency rooms and essential workers worldwide. Being infected by influenza and COVID-19 may prove to be a painful and deadly combination.
As the world awaits a vaccination for COVID-19, getting the flu shot is essential, especially in 2020, and will provide much-needed peace of mind.
Written by Sheree Bynum
Edited by Cathy Milne-Ware
healthline: What Ingredients Are in the Flu Shot?; Stephanie Watson
CDC: Influenza
The College of Physicians of Philadelphia: History of Vaccines
CDC: Disease Control and Prevention: How it Spreads; June 16, 2020
WTOP: Why it's especially important to get a flu shot during the coronavirus pandemic; Kristi King
John Hopkins Medicine: Coronavirus Disease 2019 vs. the Flu; Lisa Lockerd Magragakis, M.D., M.P.H.
Featured and Top Image Courtesy of Fort George G. Meade Public Affairs Office's Flickr Page – Creative Commons License