Michael Bloomberg Is a Republican in Democrat Clothing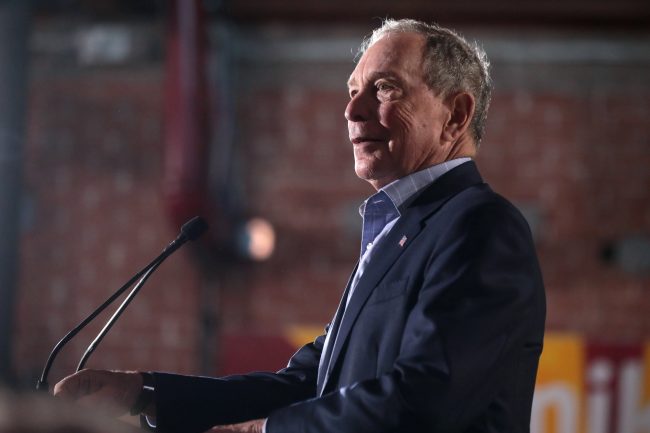 On February 19, 2020, billionaire and former New York City Mayor Michael Bloomberg stepped onto the primary debate stage for the first time, where he was then completely exposed. Every candidate took turns dunking on the former Mayor, hitting him from all sides.
Massachusetts Senator Elizabeth Warren went after the billionaire on his inappropriate history with women. Senator Bernie Sanders went after Bloomberg saying his record as New York City Mayor makes him ill-equipped to go up against President Trump. Every candidate in the field accused the 78-year-old billionaire of trying to buy the election. Former South Bend Indiana Mayor Pete Buttigieg said "Let's put forward somebody who's actually a Democrat," to applause. "We shouldn't have to choose between one candidate who wants to burn this party down and another candidate who wants to buy this party out. We can do better."
Over the last two decades, Michael Bloomberg has been registered as a Republican, then an Independent, and has now registered as a Democrat to run for President of the United States. Michael Bloomberg not only ran and governed as a Republican, but he also has a history of supporting the GOP over Democratic candidates.
While Mayor of the largest city in the Union, he endorsed President George W. Bush as President in 2004, and at the 2004 Republican convention the former New York City Mayor told the crowd of Republicans "the President deserves our support, we are here to support the President." Bloomberg touted his support of the former President even after Bush violated the Constitution with the Patriot Act.
His support continued even after President Bush signed a $1.35 trillion tax cut and after the younger Bush invaded Iraq killing hundreds of thousands according to "The Washington Post." Bloomberg has even donated to Republican politicians as recently as 2018.
Michael Bloomberg is further right then even many Republicans when it comes to wages. In 2012, millions of New York residents were denied a wage increase when Mayor Bloomberg vetoed a minimum wage increase. Bloomberg is on record saying that "he has never been in favor of raising of the minimum wage." This means the billionaire was further right than even President Bush on wages, in fact, President Bush signed a minimum wage increase in 2007.
The billionaire has a history of being an Authoritarian. In 2012, the Mayor attempted to ban New York City residents from being able to purchase soda larger than 16- ounces, although the law was struck down by the New York courts in 2013. The former Mayor has stated multiple times that he believes taxing the poor is "a good thing."
During an interview with Christine Lagarde, Bloomberg argued "some people say, well, taxes are regressive. But in this case, yes they are. That's the good thing about them because the problem is in people that don't have a lot of money. And so, higher taxes should have a bigger impact on their behavior and how they deal with themselves."
Being a 78-year-old white man worth $63 billion according to The Street, Bloomberg has no way of understanding the lives of young minority men. As Mayor of New York City from 2002-2013 the billionaire enforced the racist "stop and frisk" policy that targeted young Black and Latino males.
Before the Obama administration intervened, stop and frisks in New York skyrocketed. Stops increased 588,428 from the Mayor's first year in office compared to his ninth year; of the 685,724 people stopped in 2011, 34 percent of the stops were Latino Americans, 53 percent were African Americans, with 88 percent of the people stopped being innocent, according to the ACLU.
While Mayor Bloomberg apologized for stop and frisk right before announcing he was running for President of the United States, his previous comments tell a different story. The billionaire and former Mayor has made multiple racist comments in the past defending the program.
When asked about why minority neighborhoods were policed more, he responded: "because that's where the crime is." Bloomberg went as far as to imply that whites were the group that was discriminated against. In 2015 he said "it's not a disproportionate percentage of those who witnesses and victims describe as committing the [crime]. In that case, incidentally, I think we disproportionately stop whites too much and minorities too little."
Going into the 2020 general election, Democrats are desperate to make Donald Trump a one-term President. However, Democrats should not be so desperate to defeat a racist oligarch that they replace him with another one.
Written by Jaylen Conwell
Edited by Kimberley Spinney.
Sources:
ACLU: Stop and Frisk Data
The Street: What is Michael Bloomberg's net worth
C-Span: User Clip: Bloomberg Supporting Bush at RNC 2004
Forbes: Goodbye Big-Gulps
The Washington Post:15 years after the Iraq War began, the death toll is still murky
Featured and Top Image Courtesy of Gage Skidmore's Flickr Page – Creative Commons License